Baffin Bay Secrets
on Le Boreal
Baffin Bay Secrets
PONANT invites you to set sail aboard Le Boréal for a memorable 14-day expedition cruise to the discovery of Baffin Bay. You will embark in Kangerlussuaq for an unforgettable journey in the heart of the most magnificent Arctic landscapes.
The first destination
...
Awaken Your Sense of Wonder – with PONANT Cultural Cruises & Expeditions
The world's only French-flagged cruise line and top cruise line worldwide in polar expeditions, PONANT Cultural Cruises & Expeditions currently has five distinctive and intimate vessels, embodying the essence of a private luxury yacht: the three-masted LE PONANT, an elegant sailing yacht accommodating 64 guests and four identically designed 'sister ships' with no more than 264-guests LE BORÉAL, L
...
Superior Stateroom Cat.SP3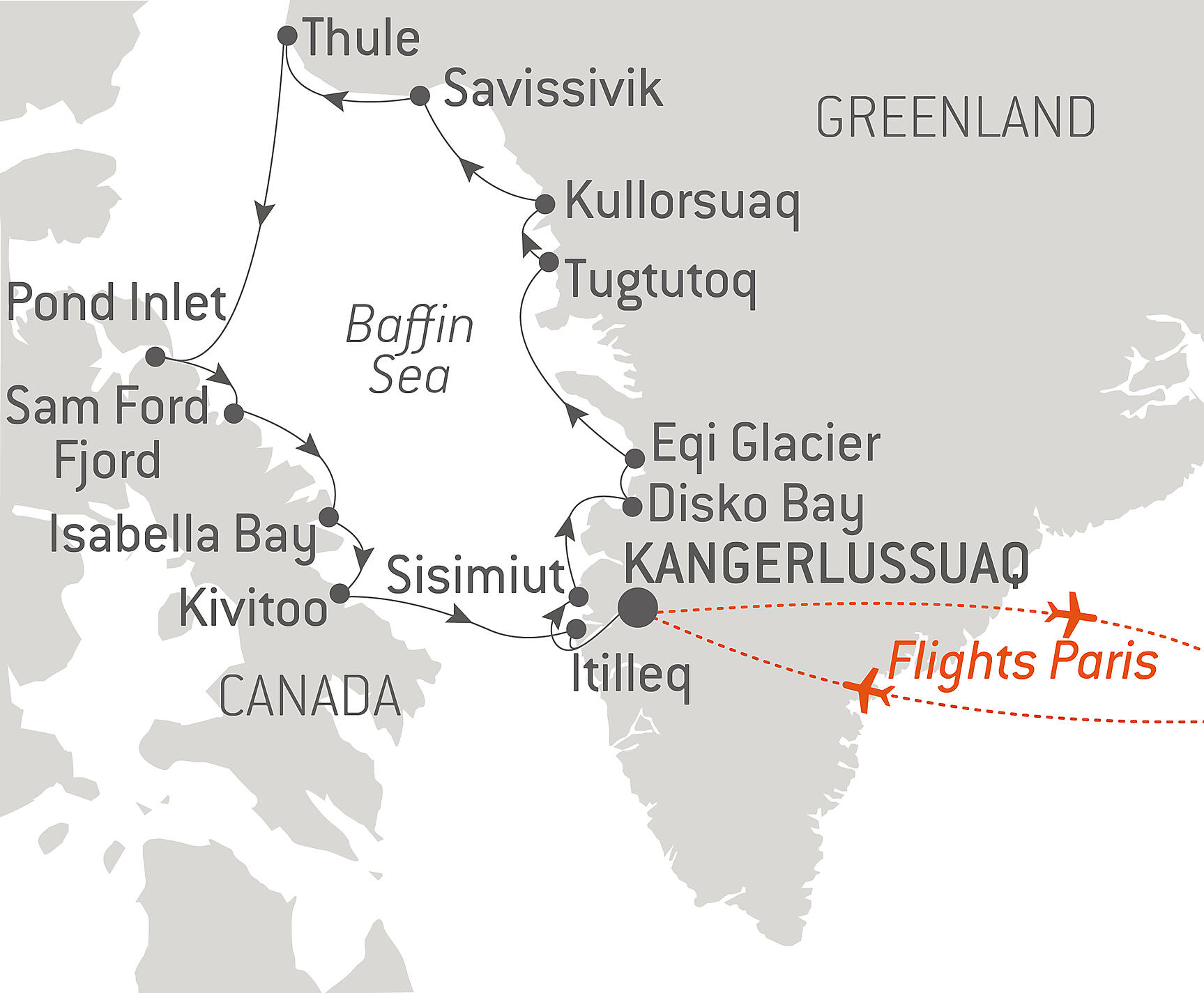 | Day | Port | Arrive | Depart |
| --- | --- | --- | --- |
| 1 | Kangerlussuaq | | 6:00 PM |
| 2 | Sisimiut | | |
| 3 | Disko Bay | | |
| 4 | Paul-Émile Victor Base Camp, Eqi Glacier | | |
| 5 | Tugtutoq | | |
| 6 | Kullorsuaq | | |
| 7 | Savissivik | | |
| 8 | Qaanaaq (Thule) | | |
| 9 | Pond Inlet, Nunavut | | |
| 10 | Sam Ford Fjord, Nunavut | | |
| 11 | Isabella Bay, Ninginganiq Wildlife Area | | |
| 12 | Kivitoo, Nunavut | | |
| 13 | Itilleq | | |
| 14 | Kangerlussuaq | 7:00 AM | |